We were headed home from our family vacation a couple weeks ago and got to talking about our first cars.  So we asked the boys what kind of car they want when they can drive.
Of course Brecken said he wants a Jeep Wrangler with big tires.  I might just buy his car a few years before he can drive so I can enjoy it.  When we asked Maxim what he wanted for a first car he said, "You guys already know, I want a camper that you can drive!"
We laughed for several miles on that one and we decided that he would get a VW Vanagon...and if you know Maxim you know that it would fit his personality perfectly.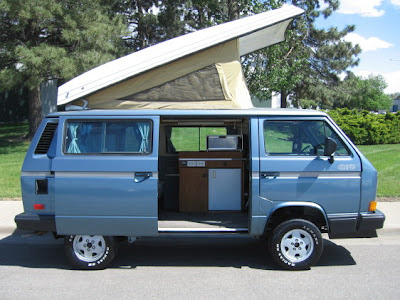 If you don't know what a Vanagon is, think "campervan"...Greatful Dead stickers all over it, vagabond rock climbers and mountain bikers live in them.  A buddy of mine had a Vanagon Westfalia for years and the family camped out of it and he loved that thing.
Maxim would look soooo cool climbing out of a Vanagon, and when the family would go climbing or on vacation, we would take Maxim's Vanagon.
So in 4 years if you see a Vanagon for sale let us know...we are thinking lime green for the color!